In 2021, AAA celebrates the 100th anniversary of its School Safety Patrol program, which teaches leadership and safety skills to increase traffic and pedestrian safety among younger generations.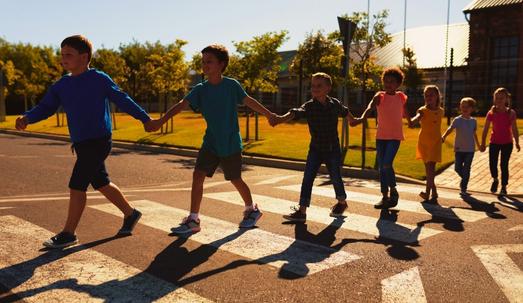 How the AAA School Safety Program Works
The AAA School Safety Patrol program originally began in 1921 to enable children to walk to school safely. It has since evolved into a program intended to provide children with leadership opportunities and a safer environment for schoolchildren across the country.
Additionally, the program initially only included boys and taught safety around buggies and early vehicles, but today the program also includes girls and goes beyond teaching about traffic safety and avoiding auto accidents. Children in this program still learn about how to safely cross the street, but they also learn about how to monitor hallway congestion, how to handle bus and car drop-offs, and leadership skills, including what to do following an auto accident.
Children enrolled in this program are called Patrollers. Originally, Patrollers received a white belt, but they have changed colors over the years to neon orange and today's iteration, a fluorescent "'Lectric Lime" green.
Why Students Become Patrollers
Students volunteer to become Patrollers, with many famous figures serving as Patrollers. Some prominent individuals who became Patrollers as students included politicians, such as U.S. presidents Bill Clinton and Jimmy Carter, and authors and Supreme Court justices. Additionally, many people who served as Patrollers while in school entered law enforcement.
Some students choose to become Patrollers because of tradition, as their parents or other relatives may have served as Patrollers. Others may volunteer for this role because they simply want to help others and earn the ability to don the belt and badge. Once a student reaches the fifth grade, both the belt and badge come off, but the student has many useful skills that they can apply for the rest of their lives.
There are around 679,000 Patrollers serving in 35,000 American schools as of the 2020-2021 school year. However, the program has spread well beyond the U.S. because of its century-long influence. Today, other school safety programs modeled after the AAA version are found in over 30 foreign countries, including Germany, France, England, New Zealand, and the Netherlands.
The program is still going stronger than ever, and it has helped and continues to help save countless lives because of the skills it teaches to schoolchildren.