Chicago Truck Accident Lawyers
The truck accident lawyers at Lloyd Miller Law have more than 75 years of collective experience helping injured victims and surviving family members recover when commercial truckers, trucking companies, and parts manufacturers are negligent. Our law firm has won millions of dollars on behalf of injured victims in Illinois.
If you were injured in a trucking accident in Chicago, Berwyn, Oak Lawn, Cicero, or a nearby community, call the injury attorneys at Lloyd Miller Law for a free consultation.
Negligent Truckers Leave Destruction and Death in Their Paths
Very few forces can match the damage that occurs when a large commercial truck collides with a smaller passenger vehicle, motorcycle, bicycle, or pedestrian. When fully loaded, semi-trucks generally weigh approximately 80,000 pounds. That is more than 20 times as heavy as the average passenger car.
Because of the sheer size of large commercial trucks, crashes frequently result in wrongful death. Victims who are lucky enough to survive often suffer traumatic brain injuries, spinal cord injuries, amputations, severe burns, and internal injuries. In most cases, their lives are changed forever.
Semi Truck Accidents Cause Lasting Financial Burdens. Our Injury Attorneys Can Help
Aside from coping with the pain and suffering caused by their life-altering injuries, truck accident victims are often forced to undergo multiple surgeries. They usually have to be treated by specialists for extended periods of time. They often lose the ability to care for themselves, let alone work to earn a living. Sometimes, people with disabling injuries need devices like lifts, wheelchairs, toileting equipment, and hospital beds. In severe cases, victims of truck crashes must depend on special medical equipment to help them stay alive.
While surgeries, treatments, and special medical devices and equipment can significantly improve an injured victim's quality of life, the costs can be substantial. An electric wheelchair, for instance, can range from a couple of thousand dollars to more than $30,000 depending on how it is equipped.
Fortunately, people who suffer injuries in semi-truck crashes can recover compensation to pay for these and other losses. By filing a personal injury claim or lawsuit against the negligent parties, you may be able to obtain compensation for: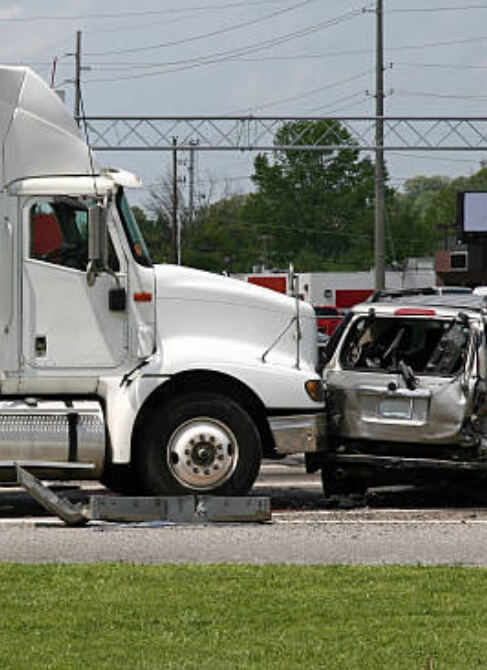 What Causes Trucking Accidents in Chicago?
Dangerously congested Chicago interstates like I-55 and I-294 are host to countless injury and fatality truck accidents every year. Traffic congestion isn't the only reason commercial truck accidents are common in the area, however. Some of the leading causes of large truck crashes include:
Despite FMCSA regulations and strict laws in Illinois and other states, negligent drivers continue to put other motorists in danger. Intoxicated drivers, fatigued truckers, and people who speed or drive distracted cause thousands of commercial trucking accidents throughout the United States every year.
Faulty brakes, defective tires, and accelerator defects are responsible for countless truck crashes in Illinois. When defective equipment causes an accident, a products liability attorney can help victims sue the manufacturer, and sometimes the mechanic who worked on the truck, can be held liable for damages.
Dangerous Road Conditions
Although nobody can control the dangerous road conditions caused by Mother Nature, or stop an animal from leaping into the roadway, other hazardous road conditions are preventable. Examples include malfunctioning traffic lights, structure failures, obstructed views, and dangerous or confusing road designs.
Large trucks that are improperly loaded increase the risk of jackknife accidents, roll-overs, and crashes caused by unsecured cargo. When commercial trucks are overweight, loads are not balanced correctly, or cargo is not properly secured, the loading company, trucking company, and trucker may all be partially to blame.
Who Can Be Held Liable for Truck Accident Injuries and Deaths?
The FMCSA regulates minimum liability insurance coverage limits for interstate trucks, but the amount of coverage required varies by the type of freight the trucker is hauling. While trucks under 10,001 pounds hauling non-hazardous freight are only required to carry $300,000 in liability coverage, for-hire and private carriers moving hazardous freight must carry a minimum of $5,000,000. While it may seem like these coverage minimums are more than adequate, the damages in a large trucking accident can be extraordinary – especially if multiple vehicles and accident victims are involved.
Fortunately, accident victims don't have to depend solely on an insurance policy to recover compensation for injuries in Illinois. Depending on the cause of the crash, victims may also be able to sue: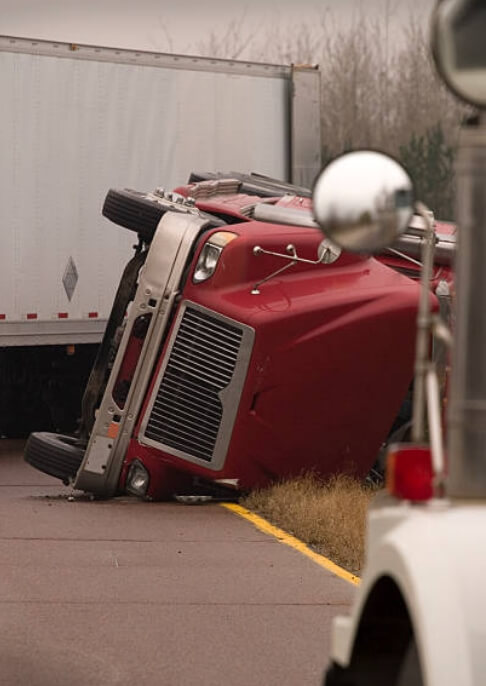 "Rich is extremely attentive and knowledgeable. He is very committed to his clients and goes above and beyond! This is the best personal injury attorney this side of the Mississippi!"
FAQs About Trucking Accidents in Chicago
How much does it cost to hire a truck accident lawyer in Illinois?
Most truck accident lawyers in Illinois accept injury cases on a contingency fee basis. This means clients do not pay upfront fees when they hire an attorney. Lawyer fees are only paid if the claim is successful. This helps ensure that financially burdened victims have access to legal counsel.
How long do I have to file a truck accident lawsuit in Chicago?
Truck accident lawsuits in Chicago must be filed within 2 years of the crash in most cases. Exceptions may apply, however.
Do I have to talk to the trucking company after a crash?
Truck accident victims are not legally required to talk to the trucking company or the insurance representatives after a crash. In fact, many people route communication to their injury lawyers who can handle most aspects of a claim on the victim's behalf.
Types of Injury Cases Our Accident Attorneys Handle
The attorneys at Lloyd Miller Law handle injury cases that stem from a wide range of incident types. We are: