The main difference between uninsured and underinsured motorists is that while underinsured motorists have a degree of liability insurance coverage, uninsured motorists don't have coverage that will cover any damages in an accident. In both cases, motorists may not be able to cover all of the costs of property damage or injuries from the accident with their insurance.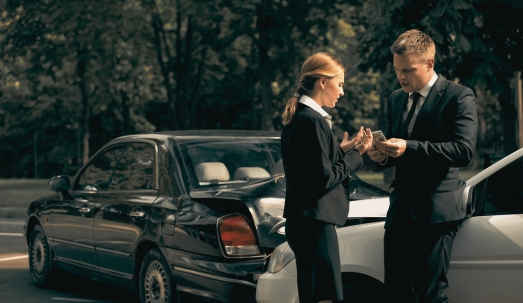 Knowing some of the specific differences between these types of motorists can help determine how liability will work following a motor vehicle accident.
The Difference Between Uninsured and Underinsured
If you're in an accident with an uninsured or underinsured motorist, it's important to understand what this means and how it might affect a car accident claim. It all depends on the level of liability insurance coverage that these motorists have to cover the damages after an accident has occurred.
Underinsured motorists have a certain amount of auto insurance coverage, including coverage that can help cover the damages resulting from an accident. However, this insurance might not be enough to cover the full amount the motorist must pay. This means that the motorist might not be underinsured in minor accidents, but a more serious accident with higher costs could render him or her underinsured.
Meanwhile, uninsured motorists don't have any auto insurance or other types of insurance to cover accident damages. Generally, it's illegal for people in most states to operate a motor vehicle without a degree of insurance coverage, with a couple of exceptions being motorists in Virginia and New Hampshire. Illinois does require that motorists carry some form of liability insurance on their motor vehicle.
In many states, auto insurance companies must offer a level of uninsured or underinsured motorist coverage to help protect others if they get into an accident with a motorist who is without sufficient insurance to cover all relevant damages.
What Is Underinsured Motorist Coverage?
Underinsured motorist coverage, or UIM insurance, provides a level of coverage that helps compensate victims in the event of an accident. The policy covers a certain amount of compensation before the victim's auto insurance policy covers the rest of it.
Like other insurance policies, UIM coverage helps compensate accident victims for certain economic and non-economic damages. These could include medical bills through co-pays and deductibles, property damage, lost income, and pain and suffering that the victim sustains.
Once the at-fault driver's UIM coverage runs out, the victim's own auto insurance company typically then covers the rest of the damages. While UIM coverage is ideal for motorists to carry in the event of an accident, many neglect to obtain this coverage because of the increased premiums.
What Is Uninsured Motorist Coverage?
While some may have UIM insurance, others may have uninsured motorist (UM) insurance as part of their auto insurance policies. While UM insurance can increase a person's insurance premiums like UIM insurance, it does add some protection for policyholders if they are in an accident when the other driver has no insurance. One of the benefits of having this insurance is that it may help cover some damages if the policyholder sustains injuries and other damages in a hit-and-run and cannot identify the other driver.
It's also important to note that there are a couple of different types of UM insurance coverage to choose from, depending on the state. For instance, some individuals may have uninsured motorist property damage (UMPD) insurance, while others could have uninsured motorist bodily injury (UMBI) coverage, or they may have both together in a single package.
When reviewing your insurance policy after an accident, a few factors need to be taken into consideration to see if the costs of the accident will be included. How severe the injuries and property damage are in the accident will determine if the financial costs will be covered by the other driver's insurance policy. All insurance policies have different coverage amounts, so it is important to know what coverage you carry. If the financial costs of the accident exceed the driver's policy limit, and you carry types of uninsured and underinsured motorist insurance, your insurance may cover the remaining amount.
Can You Recover Compensation from an Underinsured or Uninsured Motorist?
Through either UIM or UM insurance coverage, you may be able to recover compensation from individuals without sufficient insurance if an accident occurs.
Another option is to file a lawsuit against the negligent driver, but the legal process can take months or years to conclude and for you to get compensation. The case may be settled out of court with a settlement agreement, but this amount may not cover all of the costs of the accident. It is best to have an underinsured motorists accident attorney review any settlement offers to make sure that you receive the maximum amount of compensation that you are eligible for in the claim. This would also cover any future medical costs that might arise out of injuries from the accident.
In many cases, your best option might be to go through your own auto insurance company, but hiring an experienced car accident attorney can help you determine what to do if injured in a car accident and what options are the best fit for your unique situation.
How Much Can I Get from an Uninsured Motorist Claim?
The amount of money you can get in an uninsured motorist claim will depend on a few key factors. Specifically, it will depend on the severity of your injury and your medical expenses. For instance, victims are likely to receive larger amounts of compensation for extensive injuries that cause permanent disability and affect multiple body parts than for an injury to a single body part leading to temporary disability. More serious injuries come with more medical expenses and lost time from work, leading to more potential compensation to cover all of these costs. Victims that are unable to return to work, or work in the same capacity as prior to the accident, can also get compensated for future lost wages.
Your uninsured motorist claim may also be worth more than your insurance adjuster makes it seem. Insurance adjusters work for insurance companies that are always looking for ways to reduce settlements or deny claims. Also, insurance companies often investigate claims, making it critical to know how to prove you are not at fault in an accident and that your injuries are as serious as you claim them to be.
Generally, an accident attorney with experience handling claims involving uninsured or underinsured motorists may be able to help you calculate the total amount your claim is worth. He or she can take into account all the factors involved in your case and how they may influence the total amount of compensation you're able to recover in your claim.
Knowing How Uninsured and Underinsured Accident Claims Work
If you know the difference between uninsured and underinsured motorists, you'll be able to determine how an accident case and compensation will work based on what level of insurance the other driver has. Taking the right steps and having sufficient UM or UIM insurance coverage may help cover the damages resulting from an accident when the at-fault driver is without enough auto insurance.
Steps to Take After an Accident
After a motor vehicle accident, you should notify your insurance company once it is safe to do so. You should seek medical attention if you or any passengers have been injured. If the injuries are severe enough to need emergency services, call an ambulance. Even if injuries do not seem to be serious, it is still important to get checked out after an accident to make sure that no internal injuries have been missed at the scene, as some symptoms may not begin to appear for hours or days after the accident. If left untreated, some injuries can cause long-lasting or permanent damage.
If you can wait to have injuries looked over by a medical professional, you should stay at the scene of the accident to report the accident to the police, and once that has been filed you should request a copy in case you need it to help prove that you were not at fault for the accident.
Take photos of any injuries or damage to your motor vehicle. Take pictures of the area surrounding the accident in case factors that caused the accident are not immediately apparent.
Keep track of any medical bills or costs of any repairs to make sure that they are covered in the claim. Take past pay stubs to establish your wages and submit what pay dates you have missed to recover lost wages.
Consider hiring an attorney who understands uninsured and underinsured accidents to review your accident. An experienced attorney can help make sure that you are getting fairly compensated after an accident with a motorist that may not have enough insurance.