How often do auto accident settlements exceed the policy limits? Settlements do not regularly exceed policy limits because many car accident lawyers fail to identify additional recovery options for their clients. Since many drivers only carry the minimum liability insurance coverages required in Illinois, the amount of compensation needed to pay for medical bills and lost wages after a catastrophic car accident frequently exceeds the amount available through the at-fault driver's insurance policy. If the compensation necessary to cover your damages exceeds the at-fault motorist's coverage limits, other sources of recovery may be available. Your options may include filing a personal injury lawsuit against the defendant personally, identifying other parties who may have contributed to your crash, filing a bad faith lawsuit, and pursuing higher compensation through your underinsured motorist coverage or an umbrella policy. Learning the basics of policy limits and the laws regarding them will help you better understand how your auto accident settlements can exceed policy limits.
How Do Insurance Policy Limits Work?
The maximum amount that an insurer agrees to pay to the policyholder for the damage he or she causes in an accident is what is referred to as the policy limit. States set mandatory minimum policy limits that drivers must carry to prevent them from carrying unrealistically low limits that cannot adequately cover property damage and injuries.
Most car insurance policies have two kinds of insurance:
Bodily injury coverage
Property damage coverage
Bodily Injury Coverage
Bodily injury is a personal injury resulting from an accident, such as a traumatic brain injury or broken bone. The at-fault driver's bodily injury coverage is supposed to compensate you for the damages he or she caused.
Bodily injury liability coverage has a per-person and per-accident limit. The per-person limit restricts what the insurance company pays for the injuries of a single individual. The per-accident limit restricts what the company pays for all the injuries suffered in an accident.
Suppose a driver's bodily injury coverage limits compensation to $25,000 and $50,000 per person and accident, respectively. If you were the only one injured in the accident, the maximum amount you would receive would be $25,000. If you and three other people were injured in the accident, the maximum available limit would be $50,000, which would be apportioned among the four of you.
Property Damage Coverage
Auto insurance policies have separate limits for property damage, which is the damage to your vehicle and other inanimate objects. Auto insurance minimum coverage limits are usually expressed in a three-number format separated by slashes, such as 50/100/25. The first number is the bodily injury coverage per person limit, the second is the per-accident limit, and the third is the property damage policy limit. A 50/100/25 policy has $50,000 per person and $100,000 per-accident bodily injury limits, and a $25,000 limit on property damage.
You cannot use property damage and bodily injury limits interchangeably. Therefore, you cannot exceed the limit of one type of coverage because of staying below the limit of the other. For example, suppose the driver who is at fault for your accident has a 50/100/25 policy, and you sustain bodily injury amounting to $10,000 and property damage worth $30,000. The insurance company will not pay the extra $5,000 for property damage despite your bodily injury being below the $50,000 per-person limit.
Minimum Requirements in Illinois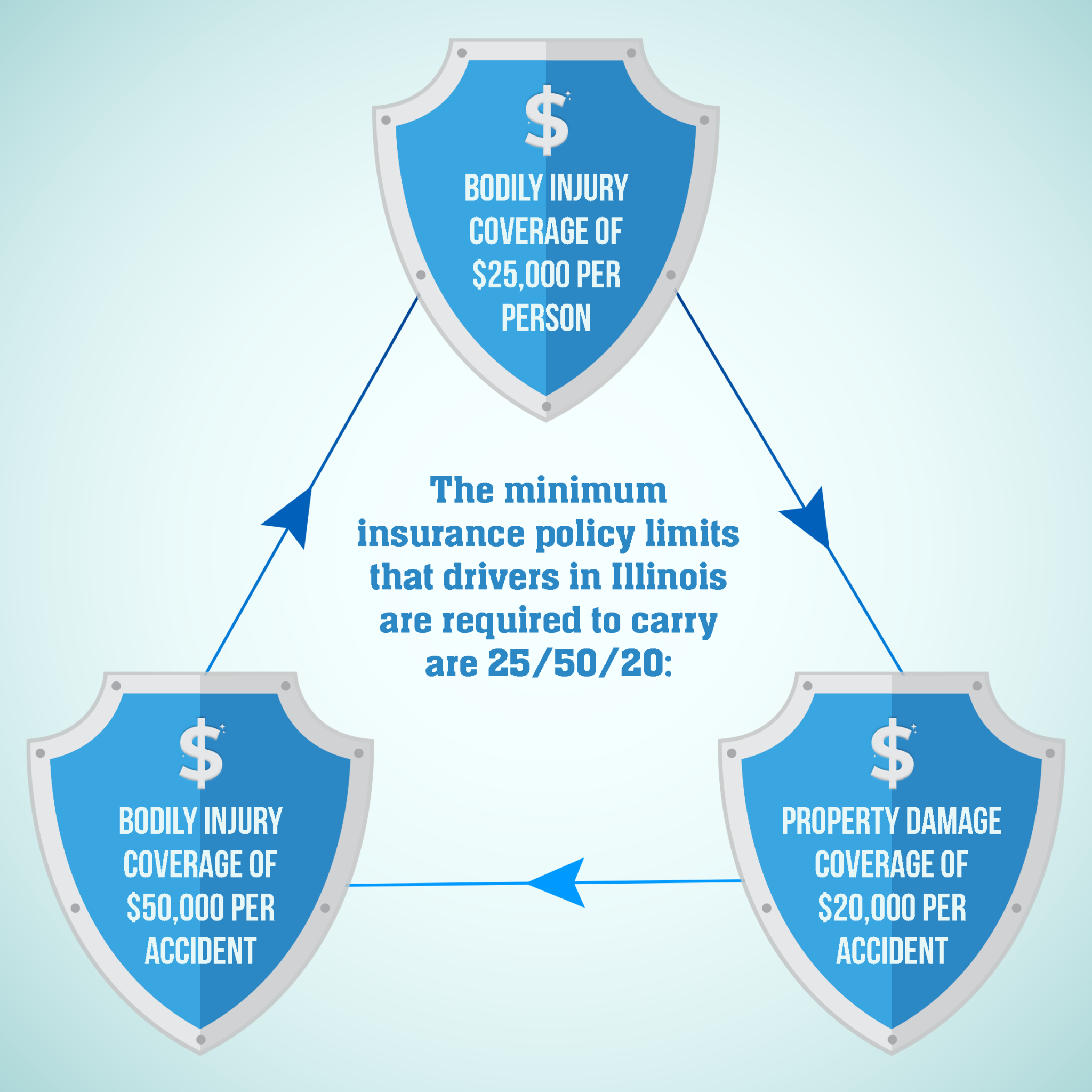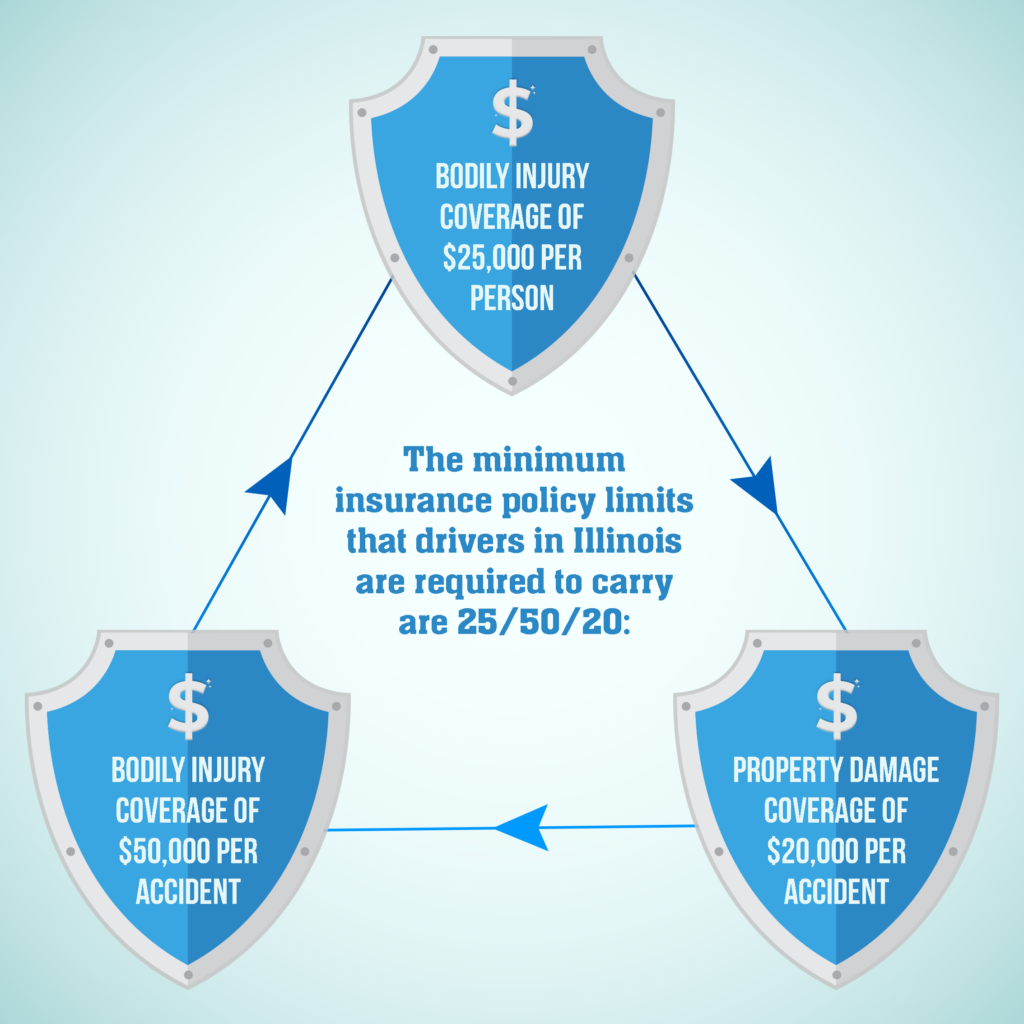 The minimum insurance policy limits that drivers in Illinois are required to carry are 25/50/20: bodily injury coverage of $25,000 per person and $50,000 per accident and property damage coverage of $20,000 per accident.
How Often Do Auto Accident Settlements Exceed the Policy Limits?
Filing an insurance claim for your damages is one of the most important steps to follow after an auto accident. Policy limits determine how much insurance companies offer for damages in car accident cases. Additionally, companies tend to look for ways to devalue or deny claims. For these reasons, it is not common for auto accident claims to exceed the applicable coverage limits.
The most recent statistics on the average bodily injury and property damage claims cited by the Insurance Information Institute are from 2018. That year, the average claims awarded for bodily injury and property damage were $15,785 and $3,841, respectively.
Factors That Affect Car Accident Settlement Amounts
Besides the insured's policy limits, other factors that typically affect the value of car accident settlements include:
The Seriousness of an Injury
The severity of the injuries suffered significantly affects car accident settlement amounts. To compensate for your pain and suffering, insurance adjusters often use a multiplier ranging from 1.5 to 5, depending on the severity of your injuries.
Medical Bills and Treatment Received
Insurance companies consider the type of treatment received and medical bills when computing car accident settlements. The future medical costs resulting from the accident also influence the value of your car accident settlement. The type and seriousness of your injuries largely determine your future medical expenses.
Lost Wages
Car accident settlement amounts typically include lost wages. That would compensate you for the money you would have earned had you not been involved in the accident. You may have to submit documents to the insurance company to prove your injuries prevented you from working.
Lost Earning Capacity
You may recover damages for the earning capacity lost due to a serious injury sustained as part of your auto accident settlement.
Types of Injuries That Often Exceed Policy Limits
You are unlikely to secure compensation beyond the insurance policy limits after an accident where you recover within a few days or weeks and do not need long-term care and support. However, accidents that cause injuries requiring significant hospitalization, rehabilitation, surgeries, and home care could have costs that quickly exceed most auto insurance policy limits. Accidents involving large trucks or motorcycles commonly cause such injuries.
A herniated disc injury and other spinal injuries in auto accidents often exceed the available insurance policy limits. Other injuries commonly associated with settlements that exceed an at-fault driver's coverage limits include:
Severe burns
Traumatic brain injuries
Loss of a limb
Other catastrophic injuries
What Happens When Car Accident Claims Exceed Policy Limits?
Even though most car accident cases are resolved within the limits of the insured's liability coverage, additional sources of recovery enable victims to collect excess damages for a claim beyond the policy limits. You may be able to file a claim against underinsured motorist insurance or an umbrella policy, file a lawsuit against multiple parties, sue the insurance company for acting in bad faith or collect from the at-fault driver personally.
Below is a closer look at these different options for pursuing additional damages.
Identifying Other At-Fault Parties
If multiple parties are responsible for your accident and injuries, you could recover from multiple policies. Other drivers, auto manufacturers, maintenance workers, and the city or state could have played a part in your accident and injuries.
For example, a third driver's negligence could have contributed to the injury-causing crash. A tire defect or faulty airbags could have worsened your injury. As a result, you could also seek compensation from the manufacturer of the car or auto parts. The other driver may have hit you while avoiding a pothole or after unexpectedly hitting a pothole, which could enable you to hold the city of Chicago liable for the poorly maintained road.
If a delivery truck rear-ends your car, you could collect damages from the delivery company's insurance policy as well as the driver's policy. If the injuries you sustained demand a payout of $100,000, yet the driver and company each have bodily injury coverage of $50,000, you could recover the damages from the two policies combined.
If you have sustained severe injuries and incurred costs that the negligent driver and his or her insurance cannot fully pay, you could locate all the other possible defendants in your case with the help of an auto accident lawyer and hold them liable.
Seek Compensation From an Umbrella Policy
Even if your case does not involve multiple defendants, it may still involve multiple insurance policies. It is crucial to find out the type of coverage that the defendant has so that you can get fair compensation by drawing from as many of their resources as you can. The defendant may carry an umbrella policy to protect himself or herself in situations like accidents. You can collect additional damages from the policy.
You are more likely to find umbrella policies among corporate defendants like trucking or vehicle companies. If the other driver was working for a company when he or she hit you, the business might have an umbrella policy from which you can recover. Some individual drivers also have umbrella policies to cover their assets in the event of a lawsuit.
An umbrella policy is only triggered after all other policies have paid out to their maximums. For example, a company may have a primary bodily injury liability policy with a limit of $500,000 and an umbrella policy. If your bodily injury damages totaled $700,000, the primary policy would pay up to $500,000 toward your injury costs, and the umbrella policy can provide the remaining $200,000 to settle your claim.
Your auto accident attorney can help you determine if any umbrella policy applies to your case to help you get additional compensation.
Personal Judgment Against the Defendant
The at-fault driver is accountable for the accident. The insurance company only pays the damages because the defendant has a contract with the company. Therefore, if your damages are bigger than the driver's insurance coverage limits, you can sue the driver to collect the amount above his or her insurance limits from him or her personally. In such a case, the defendant's personal assets can be used to compensate you.
The jury verdict or judge may order garnishment of the driver's wages or put a lien on his or her property to recoup the excess damages. However, recovery relies on the defendant having property or wages that can be seized to cover the remaining amount.
Filing a Claim Through Your Underinsured Motorist (UIM) Coverage
If you carry UIM coverage on your policy, it can be a source of adequate legal recovery when the at-fault motorist lacks sufficient liability insurance to cover all your damages. You can file a claim for UIM coverage for full compensation of your damages after maxing out what you can recover from the other driver's insurance coverage. Your insurer will consider your case a third-party liability matter and investigate your damages and injuries before paying out your limits.
Pursuing a Bad Faith Claim Against an Insurance Company
The principle of good faith requires insurance companies and policyholders to act honestly and respect each other. An insurance company acting in bad faith gives you legal grounds to file a lawsuit and get compensation above the policy limits.
Accident victims have an additional claim when insurance companies commit bad faith. Examples of an insurance company acting in bad faith include:
Delaying the settlement check
Refusing or failing to investigate your claim in a timely and proper manner
Rejecting a claim that is valid
Denying or devaluing your claim without giving a timely and reasonable explanation
If an insurance company engages in bad faith and you suffer losses, you can file an insurance bad faith claim against the insurer. As a result, you could obtain the necessary settlement amount and additional damages.
There are many other examples of bad faith behavior by insurance companies, so reviewing your claim with a car accident lawyer
will help uncover whether an insurance company has engaged in any deceptive or bad faith practices.
Time Limits in Auto Accident Cases
Illinois has time limits for accepting a final settlement offer or filing a lawsuit to recover the losses you incurred after an accident. You could lose your right to recover compensation if you do not accept a settlement offer or file a lawsuit before the expiry of the limitation period.
You have two years from the date of the accident to file a lawsuit for personal injury. If you were under the age of 18 at the time of the accident, you have to file a lawsuit within two years from your 18th birthday. For property damage claims, you must file a lawsuit within five years of the date of the crash, regardless of your age when the incident occurred.
Securing Compensation for Losses that Exceed Policy Limits
Even though car accident settlements typically do not exceed the negligent driver's policy limits, you do not have to be bound by these limits when looking for fair compensation. Insurance companies are notoriously difficult to work with and tend to keep looking for ways to reduce auto injury claims. Your car accident lawyer will investigate your accident to determine the parties that should be held accountable for your losses and calculate the amount of damages you should receive, giving you a solid starting point for seeking a fair settlement.
Your lawyer will identify all the available policies and options for recovery so you can receive fair and reasonable compensation for your losses, even if it exceeds the policy limits.