Bicycle traffic in Chicago is on a rapid growth track due to the price of gas, the green movement and more healthful living habits. The types and models of bicycles has ballooned and so has the incidence of bicycle accidents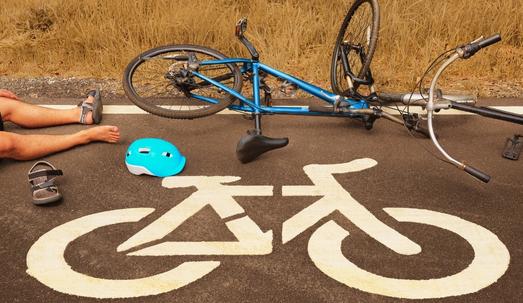 Unfortunately, hundreds of Americans die and thousands more are injured in bicycle accidents each year. In 2009, 630 bicyclists were killed and 51,000 were injured in collisions with motor vehicles.
There are many similarities in representing clients who are injured in bicycle accidents and clients who are injured in motor vehicle accidents. There are common types of collisions, defenses to refute and juror biases. However there are key differences. For example, some roadway defects that pose hazards to bicycles are of little or no consequence to the motorist.
Potholes, improper trenching, loose debris and poor pavement transitions are some examples. Overgrown foliage or trees can cast a significant shadow on the roadway, obscuring the bicyclist from the view of oncoming traffic and contribute to collision if they impair the bicyclist's vision.
Counsel should prepare for his/her case by researching these defects to determine if a single or combination of defects were responsible for the hazard. Counsel must establish the parties responsible for the creation of the defect, its length of existence and if there is a history of collisions at the site of the defect. Collision records may be requested from the city or county through a public records act request or through the highway patrol. A civil engineer familiar with roadway design and modification may be needed as an expert witness in cases where roadway design is to blame.
Several potential defendants may exist. Identify who was responsible for maintaining the roadway at issue. It may be a city or county, but private entities such as general contractors, project manager, and premises owners may also be responsible.
Grazian and Volpe has represented many victims of bicycle accidents in and around Chicago and South Chicago. Successful representation necessitates knowing the nuance particular to these types of accidents. In addition, counsel must understand basic bicycle mechanics and the bicycling laws in the jurisdiction where the accident occurred.
These are guidelines for representing the injured bicycle rider. Grazian and Volpe recommends first and foremost that riders wear helmets, have proper reflectors and lights on their  bikes, ride defensively and observe bicycle traffic laws.
Remember, it is better to stay safe, but if you can't stay safe, stay with Grazian and Volpe, Chicagoland Injury Attorneys for over 30 years.