We have been writing exhaustively on the perils of the distracted teen driver, or any distracted driver for that matter (see myaccidentlaw.com/blog keywords, truck accidents, car accidents). The rise in serious and sometimes fatal car accidents and truck accidents can be directly attributed to the increase in drivers driving while distracted-whether by cell phones, texting, eating, or simply changing a radio station or putting on make-up. While state and federal authorities continue in their efforts to legislate against distracted driving-we as parents know the truth about teen-agers: they rarely listen to us or anybody older then them.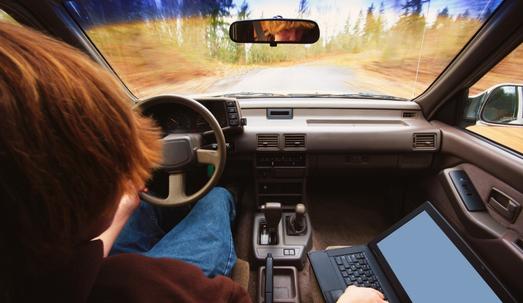 The Accident Attorneys at Grazian and Volpe have had the very sad task of litigating on behalf of families and victims of serious motor vehicle accidents – no case more tragic than when a child suffers a serious injury or wrongful death. Parents can never do enough to educate their teen-aged drivers as to driving safely. In addition, we hope the following helps in choosing and purchasing a car that will offer the best in crash avoidance and protection.
Look for the following when shopping for and choosing a car for your teen-ager or any family member:
Blind Spot Detection; devices that monitor the existence if a driver in an area not visible to the mirrors on the vehicle and;
Stability Control and ABS: Stability control is an essential feature for trucks and SUVs that have an increased rollover risk,
Night Vision helps drivers see people or animals in the distance at night. Country drivers know the perils of deer in the headlights. Night Vision devices facilitates earlier detection of these collision risks.
Automatic Crash Notification: a system that will automatically notify authorities if your vehicle is involved in a collision
Electronic Steering Control (ESC), Traction Control and AWD: This is a must in Chicago or any area where significant snowfall and rain occurs. These features can improve traction on and off road.
Curve Control System (CCS): For the speed demon teen who loves to take corners too quickly-this feature will sense when a curve is being entered too quickly and will automatically slow the vehicle speed by reducing engine power and applying brakes to all tires.
Roll Stability Control: Moms and their teens all love SUVs which stand tall and have a high center of gravity whic carry a risk of rollover in extreme cornering or evasive turning. This feature uses a gyroscopic sensor and the ECS system (see above) to brake one or more tires and reduce the engine power.
We hope these tips help you keep your teens and whole family safe and protected on the road.
Remember that it is always better to avoid an accident, but if you can't, remember Grazian and Volpe, your Chicago Accident Lawyers for over 25 years.
Please visit our website for more blog articles on preventing and litigating personal injuries and workplace accidents. Watch for John Grazian on the first Tuesday of every month on WCIU, You and Me in the Morning where he takes your questions on all areas of accident, medical abuse, workplace injury and premises liability law.