Nursing Home Neglect need not necessarily occur in the nursing home but can also apply to in-home nursing services where the nurses fail to provide appropriate car and treatment for a patient. A recent Illinois settlement awarded damages for past and future disability, past and future pain and suffering and medical damages to a plaintiff who developed a heel blister while recovering from hip surgery at the Rehabilitation Institute of Chicago. The blister progressed to a Stage III ulcer. Northwestern Memorial Home Health Care(Defendant) was the in-home nursing service responsible for the care and treatment of the ulcer. After two months of in home care, three times a week, Defendant decreased its visits to once a week. In the third month, the plaintiff's ulcer progressed to a Stage IV and then necrotizing fasciitis which required the amputation of plaintiff's leg above the knee.  Plaintiff alleged that the in house nurses failed to properly assess the wound, failed to recognize symptoms of progressive infection and improperly cut back on the frequency of home visits without notifying the attending surgeon. In addition, plaintiff contended that Northwestern failed to properly instruct the plaintiff as to the signs and symptoms of infection.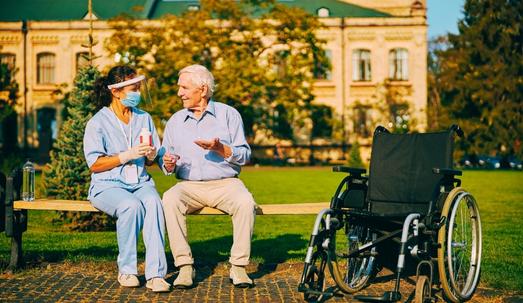 Chicago Personal Injury Attorneys, Grazian and Volpe advocated for patients at all stages of care. This not only includes advocating for clients for accident and work injury liability but also during the course of their treatment, in hospital or nursing home and in- home nursing care. We monitor all case law and opinion in these areas of  nursing home neglect and injury and in home nursing care to assure our south Chicago accident victims receive informed and aggressive representation. We please to report this particular case and relieved to find that a patient's is owed a strong duty of care by in home nursing services.
Visit us our blog for more articles concerning nursing home neglect and other issues of medical neglect and abuse. We also appear on WCIU, You and Me in the Morning the first Tuesday of every month to answer viewer questions about personal injury, accident, workplace injury, nursing and medical neglect and premises liability.
For online videos on various legal topics visit our website, WCIU and see us on YouTube and FaceBook. Remember in office consultations are always free!