When a car accident occurs involving a pedestrian a new amendment to the Illinois Vehicle Code states that pedestrians have rights, too! Under the heading of "Car Accidents" and "Personal Injury" we often have occasion to inform and opine over court cases and settlements involving pedestrians and bikers (see grazianvolpe.com or myaccidentlaw.com July 29th on "Hot Pursuit", July 28th on "Bicycle Helmets" and July 27th on "Hot Pursuit and the Joliet Bicycle Verdict").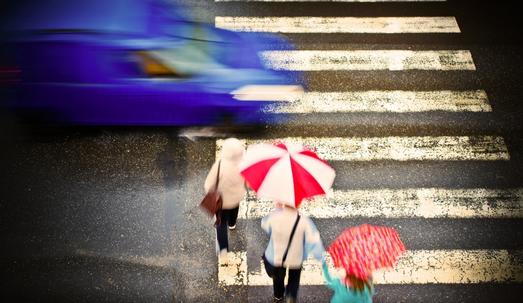 Now here comes some good, hard law through an amendment to the Illinois Vehicle Code which requires drivers to stop and yield the right-of-way to a pedestrian crossing on the vehicles side of the road when there are no traffic control signals in operation (625 ILCS 5/11-1002). A driver may choose to slow down instead of stopping when the pedestrian is crossing on the other side of the road, unless the pedestrian is dangerously close to the vehicle's side of the road. Prior to this amendment, vehicle drivers were allowed to slow down instead of stopping regardless of the location of the pedestrian.
While your Chicago Personal Injury Attorneys at Grazian and Volpe are pleased to report that pedestrians have rights we need to caution you not to go out and exercise those rights without some common sense. Cars, trucks and motorcycles, are simply bigger, faster and stronger than the average pedestrian. As South Chicago Accident Lawyers we handle many car accidents involving pedestrians and it is inevitable that the pedestrian always suffers a much more serious personal injury than either the car or the driver! So, as always, stay safe first and if you can't stay safe, stay with Grazian and Volpe!