When a tire blowout causes a car crash, accident attorneys may work with investigators to determine why the tire failed. Injured victims may be able to file claims against the other driver's insurance company, defective tire manufacturers, mechanics, or other negligent parties to recover compensation for their losses.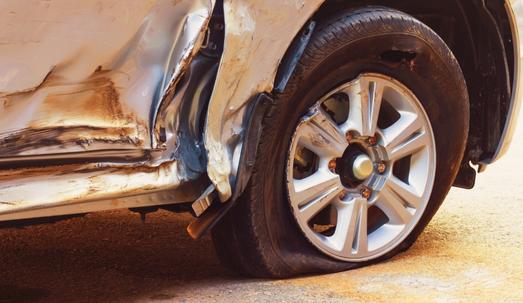 What Happens When a Tire Blowout Occurs?
When a tire blowout happens, the vehicle is unable to roll as it normally would and could quickly slow down. Drivers often discover that the vehicle steers to the side on which the tire blowout occurred. In some cases, vehicles spin out of control. Larger vehicles are particularly prone to losing control during a tire blowout due to their added weight and increased difficulty of handling.
Tire blowouts can cause car accidents involving one or more vehicles. Drivers may attempt to safely steer the car away from other drivers and pedestrians, inadvertently resulting in an accident as the vehicle rolls and/or may still strike others. In other instances, vehicles close to the rear of the vehicle experiencing the blowout may be unable to stop in time to avoid a rear-end collision.
Causes of Tire Blowout Accidents
There are many causes of tire blowouts, including:
Old and Worn Tires
Over time, tires will experience wear and tear, as they're frequently exposed to harsh road conditions. Rubber eventually wears down, preventing it from expanding and contracting as needed when the pressure or temperature fluctuates. This may lead to a blowout should the tires sustain enough wear.
Impact Damage
Making an impact with something on the road could cause damage that may not be immediately noticeable. Sometimes the impact could cause a blowout as soon as it occurs. On other occasions, the vehicle may travel for another couple of miles before experiencing the blowout.
Potholes
Many roads suffer from potholes that don't undergo repairs when they should, causing damage to vehicles' tires and undercarriage. In many cases, tires will quickly expand and contract when traveling over a pothole, leading to a blowout.
These and other causes may contribute to a blowout accident. Following a blowout accident, victims are advised to seek treatment for any injuries sustained. Injury victims of blowout accidents may be able to recover compensation for injuries and other damages.