Your Chicago and South Chicago Premises Liability Lawyers at Grazian and Volpe are always pleased when a lucky client gets to escape a Chicago winter by taking a cruise in warmer climes. We are equally displeased when one returns with a personal injury sustained during- what should have been- an escape from stress. The recent cruise ship accident in Italy brings some of these issues to the forefront. We guaranty that most "cruisers" will be very surprised by the special nuances of premises liability on these ships.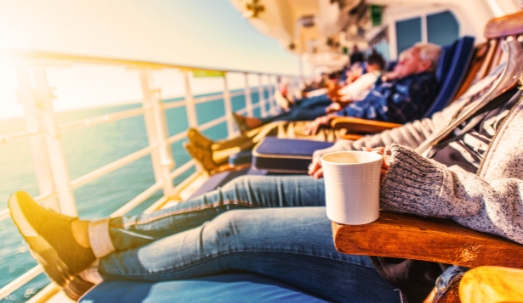 Personal injury sustained on a cruise ship presents a special challenge to lawyers and their clients. The injury law combines elements of common carrier liability principals and premises liability. Research should include much in the way of case law, of which there are legions. However, ruling all is the agreement between the passenger and the cruise line and counsel and client need to be aware of all provisions.
We decided to forward our clients contemplating such excursions to this. We hope to provide some tips and strategies as to how to stay safe and if an accident occurs-how to protect their rights.
Most of the world's 15 million cruise passengers leave from a port located in the United States. Cruise ships have become so large, carrying up to 5,700 passengers, not including crew and staff. These floating cities expose passengers to all manner of dangers, ranging from infectious disease and food poisoning to violent crimes and simple slip and falls.A passenger should never relax so much that they are not wary of their surroundings and the actions of their co-passengers. One preventive and crucial measure is to familiarize yourself with your rights as a passenger.
All prospective cruise passengers will receive a "cruise of passage" booklet from the cruise line. While this document serves as your ticket for boarding, it is also a binding contract between you and the cruise line. Please pay attention to the fine print in that contract- there may be and most often are-several clauses that strip you of certain valuable rights in the event you are injured.
Typically, the cruise line must be notified, in writing, within six months of any injury you sustained on the voyage. Failure to do so may negate your claim. Further, the contract limits the period of time within which to file the claim from three (3) years (common personal injury statute of limitation) to one(1) year.
Attorneys and their injured clients must also be wary of the ticket provision which specifies where the lawsuit can be brought and it may very well bear no relationship to where the passenger embarked the ship, lives or where the main offices of the cruise line sit.
As in all accidents-document everything! Cruise lines employ their own security forces changed with investigation and documentation of all accidents and incidents. The media is full of dramatic on board crimes where gaping holes exist in the the investigations of the ship's security personnel. Remember, they work for the cruise ship line- their investigation will most likely favor the boss.
Be careful about what you say and what you sign. If the cruise line does not agree to give you a copy of anything you sign-immediately- don't sign. Ask for a copy of their accident report and obtain the names and contact information for any witnesses. Try to document as many details as possible regarding the scene of the accident and how and why it happened. Document the name and conversations with any crew members (including full name and job title). If you can, take photos and videos of the accident scene. This is very important as passengers and crew will soon traverse the area, potentially corrupting the conditions that existed at the time of your accident.
Most of all – have fun! These are strategies and precautions to protect your rights and keep your trip safe and enjoyable. The vast majority of cruise passengers have a safe and relaxing voyage and return home glowing and in better shape than they left. Remember, Grazian and Volpe wants you to stay safe first-but if you can't stay safe-stay with us, your Chicago and South Chicago Premises Liability Lawyers for over 25 years.