Workers' Compensation and Machine Guarding Hazards: No one wants to get hurt on the job. Injuries sustained on the job are covered by worker's compensation and should allow an employee to be compensated for lost wages and medical bills. However, no employee wants to become injured and it is always best to avoid injury by being aware of safety regulations. According to the Bureau of Labor Statistics there were more than 6,200 work-related amputations in 2008. Although that number has been in decline for over 30 years, amputations remain among the top most severe work injuries and often leave the worker permanently disabled.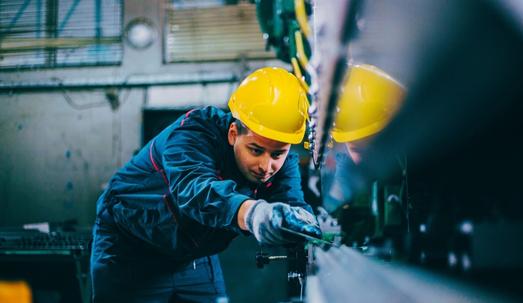 OSHA requires guarding of any machine part, function, or process that may cause injury to the operator of the machine or any other persons in the workplace. There are four basic approaches to guarding: 1) barrier guards 2) guarding devices 3) guarding by location; and 4) warnings.
Safety experts state that the best barrier guard is built into the machine and therefore not prone to be removed in the course of machine operation. These barriers should only be installable or removable by the use of a tool. Guarding devices do not prevent the worker from touching the machine but should halt the hazard before contact is made. These devices include light screens, two-palm anti-lock push buttons, interlocks and pullbacks. Guarding by location simply mean placing machinery where no one can contact its hazards.
All these precautions can be ineffective in the absence of safety procedures and training. Employees should endeavor to protect themselves against workplace injuries by requesting appropriate training and procedures and assuring that appropriate machine guards are in place. Employees should not fear repercussions for insisting on a safe working environment as it is mandated by Federal Law and Standards and firing an employee for insisting on their rights is actionable at law. It is better that an employee avoid workplace injury and the need for workers' compensation. Richard Volpe of Grazian and Volpe, South Chicago Accident Lawyer has been an expert in workplace injuries and welcomes the opportunity to share his 30 years of experience. Please watch for Richard and Grazian and Volpe on WCIU, YouTube and Facebook and learn what you can do to prevent injury to yourself and those you care about.