Personal injury damages are typically calculated by adding up the total special damages (like medical bills) and using a multiplier to then calculate general damages (like pain and suffering). The multiplier is higher or lower depending on the severity and type of injury, as well as the level of impact the injury will have on the injured party's life and relationships. Punitive damages are designed to punish the wrongdoer and are appropriate where the wrongdoer acted recklessly or intentionally. Punitive damages can vary widely, depending in part on state law and the circumstances.
What Is a Personal Injury Case?
In Illinois, a personal injury case or claim is usually based on the legal theory of negligence. Negligence occurs when a wrongdoer breaches his or her duty to act reasonably and that such failure caused or resulted in someone else's injury. Everyone owes some duty to others; generally, to act reasonably under the circumstances. The duty someone owes to others may be different or higher depending on the situation or the people involved.
For instance, a driver has a duty to act reasonably while driving, such as by using his or her turn signal before changing lanes and driving the speed limit. If Person A is recklessly driving on I-294 in Cook County, for example, and collides with another vehicle, injuring person B, then Person B may have a personal injury claim against Person A. In this example, Person B could sue Person A for compensation for his or her injuries or hire a car accident attorney in Chicago to file the lawsuit on his or her behalf.
Three Types of Damages in a Personal Injury Case
In a personal injury case, the injured party or claimant (the person claiming to be personally injured by another's acts) may receive up to three different types of compensation or damages: economic, non-economic, and punitive damages. Damages are designed to make the injured party whole again, to the extent that is possible, by easing the financial burden of the accident.
Economic damages (also called "special damages") include medical and out-of-pocket expenses, lost wages, and other financial losses incurred by the claimant because of the injury.
Non-economic, or "general," damages include the intangible cost of the injury and accident, such as the pain and suffering endured by the claimant and the claimant's family.
Punitive damages serve to punish the wrongdoer for injuring the claimant and to help prevent or deter others from committing the same or a similar act to future claimants. Punitive damages may be awarded in cases where the wrongdoer acted intentionally, such as in an assault case, or recklessly driving 35 miles per hour over the speed limit while intoxicated and causing an accident.
Calculating Medical Expenses in Personal Injury Cases
In personal injury cases, medical expenses are typically calculated based on what the injured party has incurred for medical care up to that point and what he or she expects to incur going forward.
The financial cost of medical services, prescriptions, and equipment is calculated even if the injured party's insurance provider paid all or some of those costs. Essentially, the medical expenses are usually calculated "as if the insured party paid those expenses out-of-pocket." For this reason, injured parties are encouraged to keep all receipts for prescriptions, doctor's visits, and other medical costs, and to maintain records of all medical appointments.
Future medical expenses are an estimate of what the injured party expects to have to pay for ongoing care (e.g., physical therapy) or future medical care (prescriptions or surgeries, e.g.). The insurance company may attempt to discredit this estimate by claiming it is speculative or inaccurate. The injured party can support his or her estimate by having a qualified physician testify or provide a sworn statement indicating that the estimate given for medical expenses is accurate based on the injuries.
Calculating Lost Wages in Personal Injury Cases
Lost wages are calculated by adding up the total amount of time (in wages) that the injured party has had to take off work and the wages that the injured party expects to lose in the future because of the accident. Much like with the calculation of medical expenses, the lost wages are calculated essentially without regard, for instance, to paid time off that the injured party used to make up for time off work. The actual lost wages are usually calculated as if the injured party did not use paid time off to compensate for his or her inability to work because of the injury.
Future lost wages or loss of income is an estimate of the decrease in income that the injured party expects to experience because of the injury. If the injured party must undergo a significant surgery that requires a 6-month hospital stay, the injured party will likely include this lost time at work in the calculation of lost wages. If the injured party loses a limb, thus limiting his or her ability to perform work, then this may likewise be included in the lost wage calculation.
How to Calculate Non-Economic Damages in Personal Injury Cases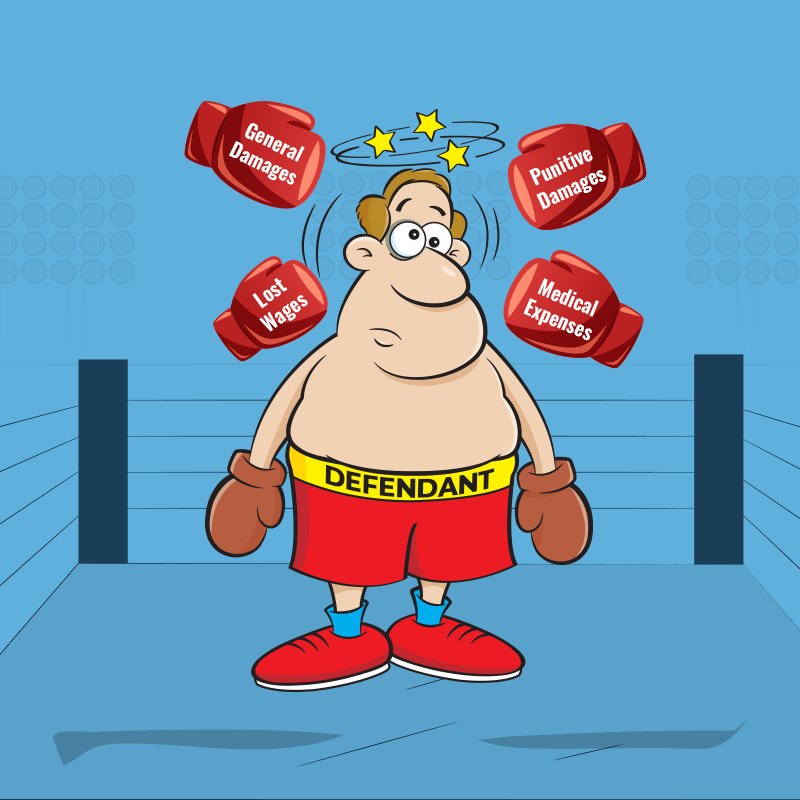 Generally, non-economic damages are calculated by multiplying the amount of economic ("special") damages by what is called a multiplier. A multiplier is typically a number between one through five, inclusive.
As discussed above, non-economic damages (also called "general damages") are those that are not readily quantifiable but are very real to the injured party and the injured party's family. General damages include the pain and suffering endured by the injured party and his or her family, permanent disfigurement and a decrease in quality of life or relationships.
The multiplier that is applied should represent the severity or duration of the non-economic harms suffered by the injured party. If the injured party suffered significant injuries and is unable to walk again, then the multiplier for the non-economic damages will be higher (close to or at five). In this situation, if the injured party is awarded $1,000 in economic damages, then the non-economic damages would be the $1000 multiplied by 5, or $5,000. The total economic and non-economic damages would then be $6,000.
In contrast, a sprained ankle is not likely to merit a high multiplier if it is minor and heals quickly, especially if the injured party has a desk job that does not require much, if any, walking. The economic damages might total $100 and the non-economic damages around $100 to $200, for a total of $200 to $300 for economic and non-economic damages.
Because of the intangible nature of non-economic damages, the true cost and appropriate multiplier applicable in the injured party's situation is likely to be a point of contention for the claim or lawsuit. Further, insurance companies typically want to pay out as little as possible for each claim. One of the ways insurers minimize claims might be to downplay the pain and suffering experienced by the injured party and his or her family because of the accident. As such, issues like what multiplier would appropriately represent the true non-economic harm endured by the claimant will likely be the focus of much debate between the insurance company and the injured party.
In permanent disfigurement cases, for example, the insurance company may emphasize that the injured party can still work even though his or her appearance is significantly impacted by the accident. The insurance company is likely to then maintain that a lower multiplier is appropriate to calculate the non-economic damages warranted in the situation. The injured party may respond by emphasizing the impact that the permanent disfigurement has had on his or her mental health, relationships, and overall quality of life. In a personal injury lawsuit, the jury would likely be presented with this information and have the final say in what multiplier is appropriate under the circumstances.
How Punitive Damages are Calculated in Personal Injury Cases
As previously discussed, punitive damages serve to punish the wrongdoer and to deter others from committing the same or similar act or causing a similar injury to future parties. Punitive damages are not applied in every case; rather, punitive damages are usually awarded to injured parties in cases where the wrongdoer's actions were beyond negligence, such as intentionally committed or reckless acts.
The amount of punitive damages appropriate in a personal injury case depends on a number of factors. Things that can impact the amount of punitive damages include the specific wrong committed (what law was broken) and what limits, if any, there are on the maximum total for punitive damages.
Aside from those factors, typically the punitive damages might be proportionate to the act and subsequent harm, and the financial status of the wrongdoer. For example, ordering Walmart to pay $1,000 in punitive damages would not be as effective as, say, $500,000 in punitive damages. Again, however, the law and the specific circumstances play a big part in determining whether punitive damages are appropriate in the case and, if so, how much.
There is no guarantee that an injured party will be awarded punitive damages or a particular amount of punitive damages.
How Modified Comparative Negligence Impacts Recoverable Damages
In Illinois, recovery in personal injury cases follows a modified comparative negligence standard. After reviewing the facts of the case, the fact finder (either the jury or the trial judge) will assign a percentage of fault or blame to the injured party and the at-fault party.
The fault or blame in this context typically refers to the cause of the accident and the cause of the injuries. This is an important distinction because if Driver A caused the accident, but Driver B failed to take steps to minimize further damage, then both Driver A and Driver B may be found to be at fault for the injuries to Driver B's property and body.
In Illinois, if the injured party is found to be more than 50% at fault for his or her injuries, then he or she may not be entitled to any recovery. Different standards may apply to different cases, and the facts may play a big part in the allocation of fault. Because of this, injured parties may need an experienced attorney to win their case.
Other Standards and How it Impacts Recoverable Damages
Other states employ different standards in calculating recoverable damages. In a pure comparative negligence state like Indiana, the fault of each party is evaluated and assigned percentage. The amount of recovery that a victim may receive is reduced by the percentage of which he or she is found to be at fault. Usually, the amount that the recovery can be reduced does not have a limit, meaning that a victim's compensation may be reduced to zero.
Evaluating Insurance Coverages Available to Personal Injury Victims
Personal injury victims and at-fault parties can limit their out-of-pocket costs in future accidents by maintaining the proper type of insurance and adequate coverage amounts. For instance, states may require drivers to carry a policy that meets mandatory minimum coverage amounts; however, drivers may benefit from finding a policy with higher limits to limit their out-of-pocket costs.
In Illinois, for example, drivers are required to carry car insurance that meets the minimum amounts under Illinois's car insurance law. All Illinois drivers are required to maintain liability coverage, uninsured motorist bodily injury coverage, and, in some cases, underinsured motorist bodily injury insurance. Liability coverage typically covers the cost of personal injury or property damage caused by the insured. This coverage may automatically extend to immediate members of the insured's family who are operating the insured's vehicle.
Liability car insurance coverage usually covers bodily injury for a pedestrian or bodily injury of a person in another car or, in some cases, the insured's passenger. Illinois law requires that an insured carry bodily injury coverage that covers at least $25,000 in damages "per person per accident and $50,000 total per accident." For property damage, the liability coverage must cover "at least $20,000 per accident."
Uninsured motorist bodily injury coverage covers the cost of the insured's bodily injury if he or she is injured because a hit-and-run driver or uninsured driver crashed into his or her car. The uninsured motorist bodily injury coverage minimums are the same as the bodily injury coverage discussed above.
If Illinois drivers carry "higher limits of uninsured motorist bodily injury coverage," then they may be required to also carry underinsured motorist bodily injury insurance. This type of coverage covers the difference between the insured's uninsured motorist coverage limits and the at-fault driver's liability limits.
Drivers are encouraged to include optional coverage, such as for lost wages, with their car insurance to protect them and compensate them for their losses.