What is considered a work-related injury? According to the Occupational Safety and Health Administration (OSHA), an injury is considered work-related if an event or exposure in your work environment resulted in, or contributed to, the injury or aggravated a pre-existing condition significantly. Your work environment includes areas away from your usual work site. Your injury has to be work-related for you to receive workers' compensation benefits. However, some incidents that you would not typically consider work-related may qualify. Keep reading to learn more about what is considered a work-related injury.
What Is a Work-Related Injury?
A work-related injury is an injury or illness caused or aggravated by exposures or events occurring in your work environment. According to OSHA, your work environment is the establishment or other locations where you work or are present as a condition of your employment. Besides the physical locations, your work environment includes the materials or equipment you use during the course of your work.
For an injury to be eligible for workers' compensation, the event or exposure that causes or contributes to it should occur during the course and scope of your employment. Work injuries can result from one incident or develop over a long period. It's easy to recognize a work-related injury when it results directly from an event on your worksites, such as a fall from a ladder or a sudden slip resulting in a broken leg.
Here are some instances where your work-related injury may be less straightforward.
Aggravation of Pre-Existing Conditions
Even if you had a pre-existing condition, your injury or illness would be considered work-related if an event or exposure in your work environment worsened your pre-existing injury or illness. For example, lifting heavy objects may make a bad knee or back worse, accelerating your need for treatment. The aggravation should qualify as a work-related injury.
Injuries Suffered During a Lunch Break
Injuries sustained during lunch breaks are not usually work-related. However, your injury will be considered work-related if you sustained it during a lunch break while on your employer's premises, provided you weren't doing something the company doesn't allow. Your injury may also be covered by workers' compensation if you were hurt while getting lunch for your boss or attending a meeting over the lunch break.
Travel
Any injuries that occur while traveling are work-related if you were engaging in work activities during the travel. For example, your job may require you to travel regularly while conducting job tasks. You may also suffer an injury while traveling to or from a client, running an errand for your boss, or on a business trip. Injuries sustained in such instances usually qualify for workers' compensation.
Working From Home
Injuries sustained when working from home are considered work-related if they occur while you were performing a task in your employer's interest for pay or compensation. The injury should be directly related to the work you were performing. For example, you may suffer a work-related injury at home if you hurt yourself when lifting a work-related package or using work equipment.
Cumulative Injuries and Occupational Illnesses
Cumulative injuries occur due to repeated work events. Repetitive strain injuries (RSIs), for instance, develop from work-related tasks that involve repetitive movements. People like coders, assembly line workers, and home health aides who do the same stressful physical task every day can develop RSIs. Carpal tunnel syndrome, back pain, tendonitis, bursitis, and tennis elbow are some examples of RSIs.
You may also develop occupational illnesses due to repeated on-the-job exposure. Hazardous conditions like poor lighting, bad air quality, noise, and dangerous chemicals can cause these work-related illnesses. These diseases include lung disease, cancers, COVID-19, skin conditions, hearing loss, vision impairment, and breathing problems.
Psychological Illnesses
Mental health conditions caused by workplace stress can also qualify for workers' compensation. These conditions can arise over time or from singular events. Stress, severe anxiety, post-traumatic disorder (PTSD), and depression are some mental illnesses that may be considered work-related. Proving these illnesses to be work-related can be challenging, so you are likely to need the help of a workers' compensation lawyer.
Common Workplace Injuries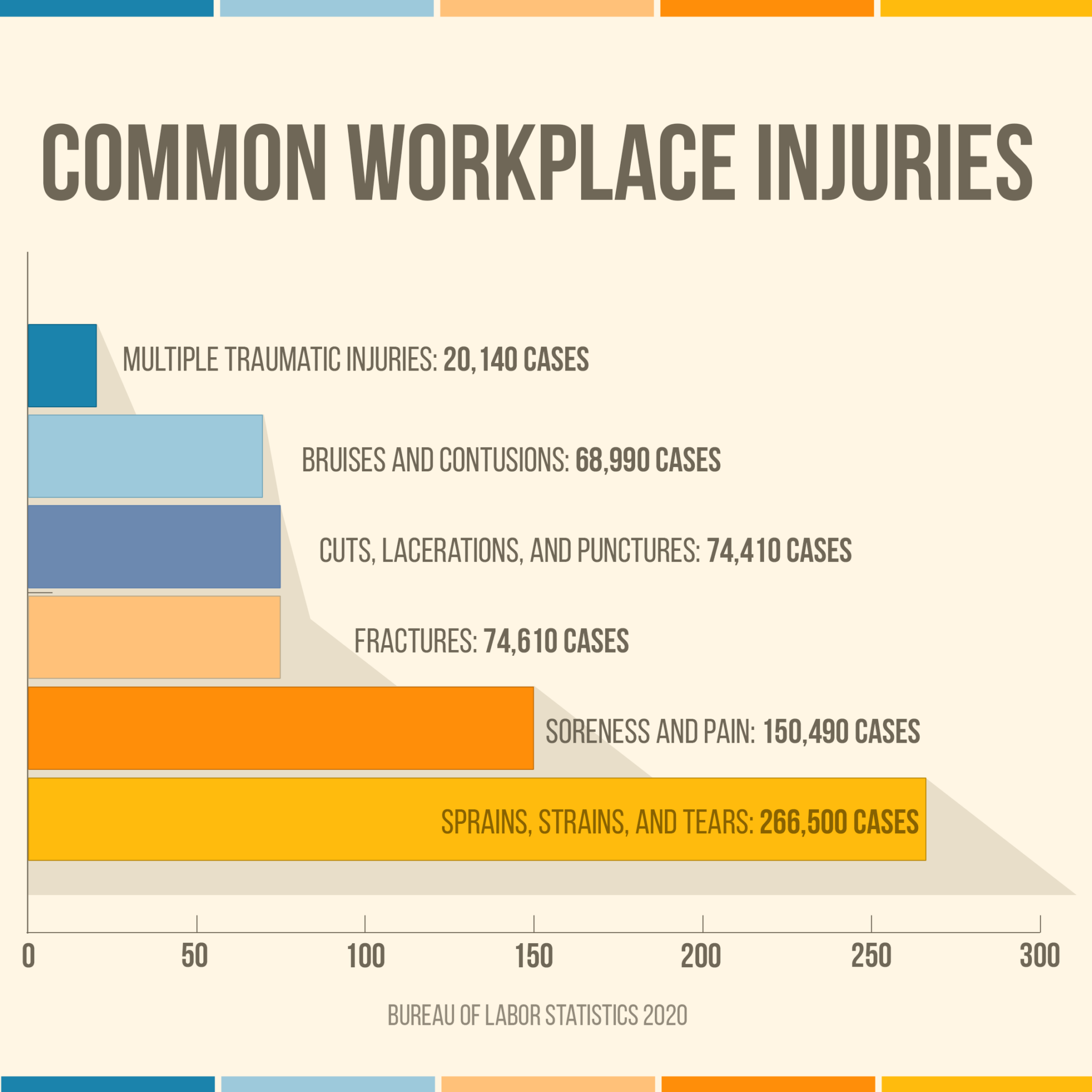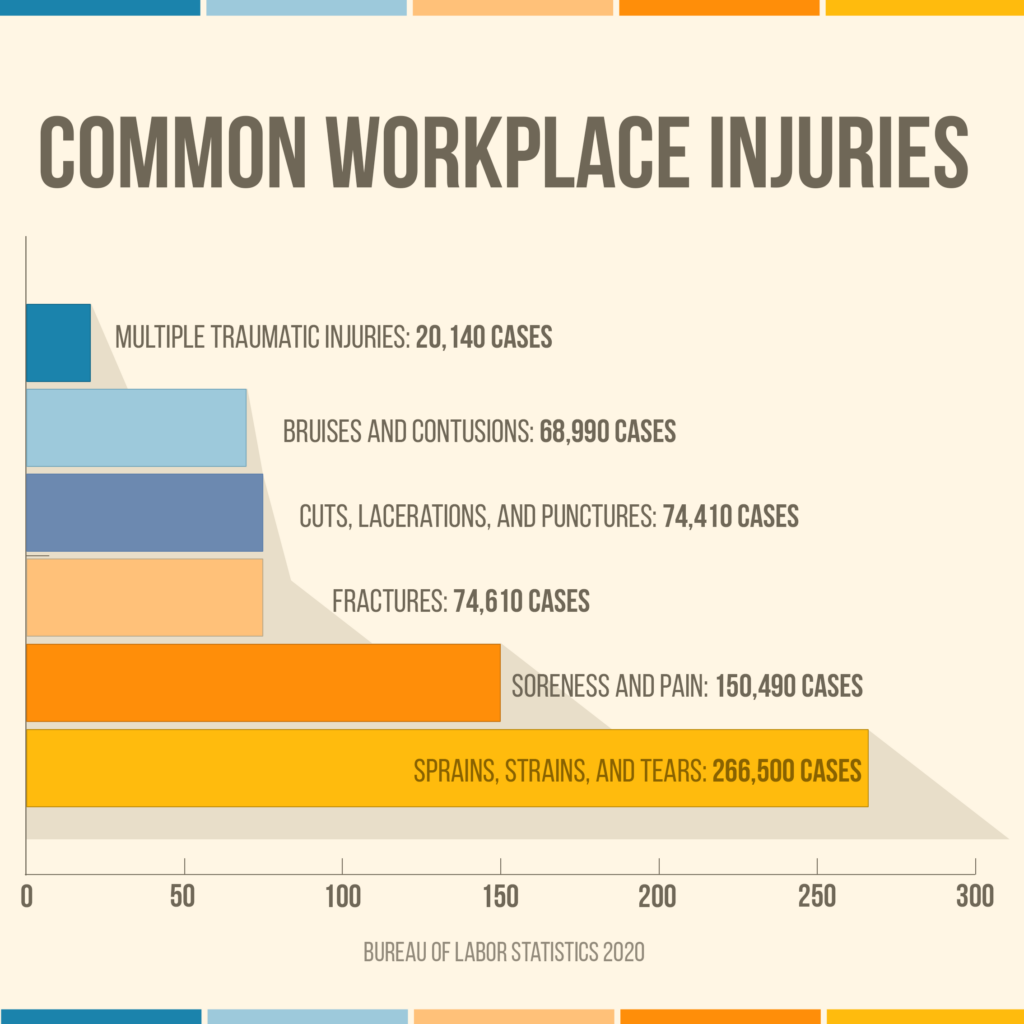 Work-related injuries occur in many circumstances, but some tend to happen more often than others. When trying to determine whether your injury is considered work-related, it would help to know the most common workplace injuries and their causes. According to data from the Bureau of Labor Statistics, the workplace injuries sustained the most in 2020 include:
Sprains, strains, and tears: 266,500 cases
Soreness and pain: 150,490 cases
Fractures: 74,610 cases
Cuts, lacerations, and punctures: 74,410 cases
Bruises and contusions: 68,990 cases
Multiple traumatic injuries: 20,140 cases
The five leading causes of these top workplace injury classifications were exposure to harmful environments or substances, overexertion and bodily reaction, slips, trips, falls, harmful contact with equipment or objects, and transportation incidents. Slips, trips, falls, overexertion and bodily reaction, and exposure to harmful environments or substances were responsible for 891,490 nonfatal work-related injuries and illnesses, accounting for more than 75% of nonfatal work-related injuries and illnesses involving days away from work.
Exposure to Harmful Environments or Substances
Exposure to harmful environments or substances was the top cause of work-related injuries that involved missed workdays in 2020, accounting for 36% of the injuries. That was primarily due to work-related illnesses resulting from COVID-19.
Apart from exposure to infectious diseases like COVID-19, exposure to harmful environments or substances includes exposure to radiation, noise, electricity, temperature extremes, changes in water and air pressure, and stressful or traumatic events.
Overexertion and Bodily Reaction
Overexertion and bodily reaction accounted for 22% of nonfatal injuries or illnesses that involved missed workdays in 2020. Overexertion occurs when you exert yourself beyond your normal range of strength or motion. Lifting, pushing, pulling, holding, throwing, typing, using a mouse, and repetitive use of tools are common activities that can lead to overexertion.
About 66% of the nonfatal injuries that resulted from overexertion and bodily reaction were sprains, strains, and tears. Pain and soreness accounted for 22%, carpal tunnel syndrome accounted for 2%, while fractures made up 1% of the resulting injuries. The back was the body part that was hurt the most by overexertion.
Falls, Slips, and Trips
Falls, slips, and trips include slipping and tripping without falling, falling on the same level, and falling to a lower level, such as falling off a roof or ladder or down a flight of stairs. These caused 18% of the nonfatal injuries or illnesses involving missed workdays in 2020.
The most frequent nonfatal injury that resulted from same-level falls was soreness and pain, followed by sprains, strains, and tears. Same-level falls killed 136 workers in 2020.
Falls to a lower level led to the death of 645 workers. Fractures were the most common injury resulting from these types of falls, followed by sprains, strains, tears, soreness, and pain.