Delivery drivers in America face many dangers that other workers don't traditionally face, including violent attacks and accidents. Statistically, delivery drivers are more at risk for workplace injuries than police officers, who are commonly regarded as some of the most at-risk professionals.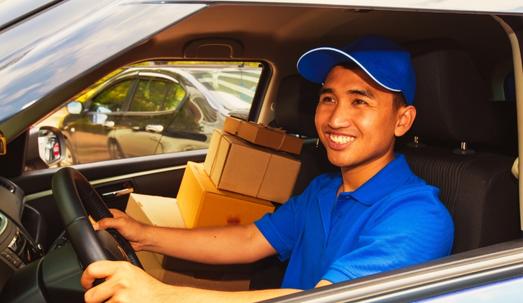 The Dangers That Delivery Drivers See on the Job
Over the years, delivery drivers have sustained work-related injuries and even fatalities as a result of work-related hazards. Many of these incidents involve unprovoked attacks that have left drivers seriously injured. For example, drivers have been robbed at gunpoint, shot, mugged, and beaten, often over minimal amounts of money that drivers carry with them.
According to reports from the Bureau of Labor Statistics and USA Today, delivery drivers are in one of the most dangerous professions, ranking below only a handful of others. Loggers routinely top the list.
However, the dangers that delivery drivers face are a relatively new development for reasons that aren't entirely clear.
When Delivery Became an Increasingly Dangerous Industry
Reports of attacks on delivery drivers have become increasingly common in the last decade, beginning around 2010, according to Ronald Strehle, the Dayton Police Department's crime prevention officer. Strehle told Vice in 2015 that he saw delivery driver robberies skyrocket by 400% in 2010.
Since 2010, Strehle and others say that criminals came to see delivery drivers as easy targets for quick cash, food, or even vehicles. Some attempts to attack drivers include luring delivery drivers to empty construction sites or abandoned homes, giving criminals the chance to strike when the driver is isolated.
Strehle also noted that criminals often attempt to steal drivers' phones to prevent drivers from reporting the crime until after they've returned to their employers.
Why Are Delivery Drivers More at Risk Than Law Enforcement?
In early January of 2021, a viral TikTok depicted a Papa John's delivery driver preparing for work by gearing up to face the dangers ahead. This video pulled data from the USA Today report in which data from the Bureau of Labor Statistics showed that delivery drivers were more likely to die on the job than police officers.
Specifically, the data comes from the 2016 Bureau of Labor Statistics, which found that delivery drivers saw 24.7 annual deaths for every 100,000 workers, while police officers saw 14.6 annual deaths for every 100,000 workers. Additionally, the 2019 Bureau of Labor Statistics reports detailed that delivery drivers accounted for 1,005 of 5,553 total workplace fatalities in the U.S. that year.
At the same time, the FBI revealed in 2019 that the death rate for police officers has seen a gradual decline over the years, with 89 deaths in the line of duty in 2019. However, the reason for the high death rate of delivery drivers remains vague compared to that of police officers who frequently confront dangerous situations.
How Improved Training May Help Keep Delivery Drivers Safer
Although it's still not explained why the trend of attacks on delivery drivers has only recently increased, there are certain steps that drivers and companies could take to help mitigate these incidents.
The most important step would be for companies to provide training for employees to avert potential dangers. Oftentimes, delivery drivers don't receive any training regarding how to safely approach customers or other precautions to take while en route to their destinations.
For instance, NYC delivery driver Scott Wiener told Vice in 2015 that he had delivered food to the projects. One day while completing delivery in this area, he had encountered a police officer who pulled him aside and told him to "make them come down to your car." Wiener noted that he had not received such training on the job and that this information was helpful.
Wiener, like many drivers, hadn't received proper training about how to approach certain potentially dangerous situations, and this training is still lacking for drivers across the country who are frequently at risk.
Working With the Police for Proper Training
The same Vice article also mentions that Officer Strehle and the Dayton Police Department in Ohio had started providing training for pizza delivery drivers. Much of this training consists of tips for restaurant owners and employees.
According to Strehle, driver assaults decreased as a result of the training, with only two occurrences within a year of initiating training. In addition to delivery drivers, police have started to train individuals in other professions, including real estate agents.
If more law enforcement agencies and businesses implement training across the country, delivery drivers may benefit from additional knowledge and awareness regarding ways to avoid potential dangers. If delivery drivers sustain serious injuries on the job, they may be entitled to compensation following these incidents.