There are a number of potential injuries that Amazon workers may face, which can lead to an Amazon workers' comp claim. Injuries in Amazon warehouses can be caused by repetitive stress injuries, being hit by falling objects, equipment malfunctions, tripping and falling, and back and shoulder injuries from continuous lifting. Drivers who work for Amazon are in danger of injuries caused by car accidents, physical assaults, slip and falls, or injuries caused by lifting.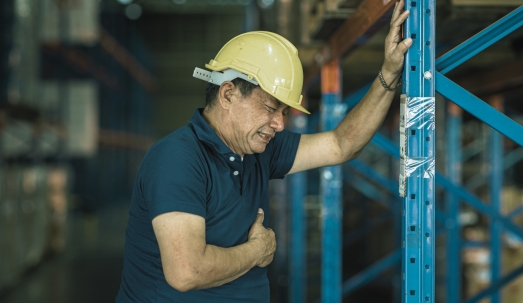 Amazon is a leading global retailer and operates in more than 50 countries, supplying millions of products to customers worldwide. To support this operation, they have a workforce of more than 798,000 employees. With such a large operation, there are numerous hazards that can put workers at risk of being injured.
The Dangers Amazon Workers Face
Warehouse workers at Amazon face similar hazards to workers in any other warehouse. However, according to one study, Amazon workers get injured more than twice as many times as workers in other warehouse jobs. In 2021, there were more than 34,000 serious injuries to employees while on the job at Amazon facilities. Among all warehouse workers in the United States, Amazon employees make up roughly one-third of these workers, but nearly half of all injuries (49%) happened at Amazon facilities.
One reason for Amazon warehouses having a higher number of injuries than others could be their relentless drive for efficiency to meet tight delivery deadlines.
Warehouse jobs can be hazardous, since they often require repetitive motions that can physically and mentally take a toll on the workers. There is also a danger of falling objects or malfunctioning equipment. Amazon employees are at risk of sustaining injuries from any of the following:
Repetitive motion from continually having to use their arms, hands, and backs.
Using forklifts and other heavy machinery can create dangerous situations or malfunction.
Being hit by falling boxes, objects, or inventory on the shelves.
Tripping and falling on hazards on the floor, such as pallets, containers, or other debris.
Manually lifting heavy objects over an extended period, placing stress on the body and causing a risk of injuries from overexertion.
Truck and delivery drivers face their own hazards and risks caused by extended periods of road travel.
Common Reasons for Amazon Workers' Comp Claims
An employee can make a workers' compensation claim if he or she is injured while doing work for an employer. To be successful, there must be an employer-employee relationship, the injury must have happened while the employee was fulfilling his or her employment, and he or she must suffer economic or non-economic damages resulting from the work-related injury.
Truck drivers are classified as independent contractors, rather than Amazon employees, and are unable to claim workers' compensation for injuries as there is no employer-employee relationship. However, workers at Amazon can claim workers' compensation for injuries they suffer while fulfilling their duties. Some of these common injuries include:
Back Injuries
People who work in warehouses are constantly bending over to stoop and pick up objects. This can cause strained muscles in the back, herniated discs or other injuries that affect the spine.
Some activities in Amazon warehouses create an especially high risk of back injuries. These activities include loading and unloading trailers, pulling pallets and carts, a long duration of transferring from one pallet to another, pelletizing merchandise, or picking, storing, and packing merchandise.
Musculoskeletal Injuries
Musculoskeletal injuries are sprains, strains, or injuries like carpal tunnel syndrome that arise from over-exertion and repetitive motion. This is the most prevalent type of injury suffered at Amazon warehouses, accounting for roughly 40% of injuries to employees. Often, Amazon workers who pack merchandise will lift hundreds of packages per day that weigh more than 20 pounds. This creates a high risk of the workers suffering a shoulder injury.
These repetitive motions and over-exertions create wear and tear in joints, muscles, and tendons. This leads to significant pain and discomfort in limbs, shoulders, joints, and the back. Treatment for these injuries can be rest or physical therapy, but sometimes they can be severe enough to warrant surgery.
While these injuries are not caused by a single accident, but rather repetitive strain over time, an employee should still claim workers' compensation benefits because the injury was caused by work performed while on the job.
Fall Injuries
It's common for items and hazards to be left on a floor, and for there to be wet floors in a warehouse. These pose a risk of a person tripping or slipping and suffering a fall. Warehouse employees often must climb up ladders, creating a risk of falling off, especially if the ladder is improperly positioned.
Falls can cause broken bones, wrist, arm, and hip fractures, dislocated joints, or serious sprains. They can also cause head injuries, concussions, or traumatic brain injuries.
Chemical Burns
There may be harmful chemicals that a warehouse worker can get exposed to. This may cause the worker to be at risk for chemical burn injuries, especially if there are insufficient safety precautions. Chemical burns can cause severe scarring and physical pain. There is also the danger of the worker's eyes being exposed to dangerous chemicals if he or she does not have sufficient protective equipment. This can lead to vision problems.
Cuts and Lacerations
Cuts and lacerations may be caused in the workplace by sharp metals, such as knives or shards of glass or metal. Across all workplace injuries, cuts and lacerations are quite prominent, comprising approximately 30% of all workplace injuries, with 83% of these being hand lacerations.
The severity of lacerations can range significantly, with small nicks simply requiring a band-aid, but deeper gashes requiring ER visits, stitches, missed work, and possibly permanent damage leading to loss of dexterity, or scars and disfigurement.
If you have suffered a workplace injury while working for Amazon, you may be entitled to workers' compensation benefits for your injury. Depending on the circumstance and severity of your injuries, you may be entitled to the following benefits:
Medical costs
Temporary total or partial disability compensation
Permanent total or partial disability compensation
Rehabilitation expenses
Vocational retraining and job placement if you are unable to return to work
How Long Can a Workers' Compensation Case Take?
While each workers' compensation claim is different, the average timeline to reach a settlement is roughly 12 to 18 months. However, if there are complications, a claim can take up to 24 months or longer, depending on whether the claim is complex, legal issues arise, or there are other factors that impact the timeline.
The length of time that it takes to receive a settlement offer and pay-out in a workers' compensation claim can depend on several factors. These include the type and severity of your injury, how long it takes you to recover from the injury, or whether your injury has resulted in disabilities. It will also take longer if the insurance company disputes your injuries or refuses the claim, forcing you to appeal. The insurance company might offer you a settlement amount that you are not satisfied with, forcing you to enter into protracted settlement negotiations.
To prevent any settlement delays, you should not delay in informing your employer of your injuries and filing your claim. In Illinois, you have 45 days in which to report a workplace injury.
You should ensure that all forms and paperwork are filled out correctly, that you follow up with insurance companies, and communicate with them regularly. You should make sure to go for any medical treatment or requested examinations promptly. You should keep evidence of your injuries to support your workers' comp claim, so that the insurance company is less likely to dispute your injuries or the amount that you are claiming.
To collect evidence, you should seek medical attention so that you have medical records documenting your injuries. You should also write down the names of anyone who has witnessed your injuries so that they can provide witness testimony. If your injuries were caused by an accident, you should take photographs of the scene and your injuries. It may be helpful to contact any specialists or doctors who can provide expert opinions that support your claim.
To prevent delays and maximize your chances of having a successful claim, you should also contact a workers' compensation lawyer. A workers' compensation lawyer will be able to gather medical records, arrange treatment with the correct doctors, and arrange medical opinions either through an independent medical examination or your treating doctor. An attorney will also be able to advise you on what your claim is worth, considering the extent of your injuries and any limitations that they have created on your functioning, medical treatment you might need in the future, and any lasting impairments you might have. An attorney will be able to negotiate with the insurance company on your behalf to maximize your settlement amount.